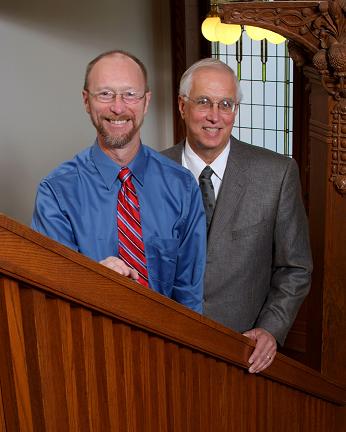 Our firm's partners are Steven J. Zoller, CPA (on the right) and Arden Swanson, CPA (on the left).  In addition, we have twelve professional staff and five support staff to respond to client needs promptly and efficiently.

Steve Zoller is a CPA with a unique ability to connect with his clients in the areas of retirement income planning, financial consulting, real estate analysis, tax preparation and charitable planning.  His main focus is integrating various complex elements of a client's financial affairs in a coordinated fashion and giving easy to understand, practical advice. He has served the Oak Park-River Forest community for over 30 years with his financial expertise, as well as involvement in community affairs.  Steve has served as chairman of the Oak Park YMCA, President of the River Forest Tennis Club, founding father of the Oak Park Christian Businessman's Committee, and has served as Advisor and Director of the Oak Park Community Foundation as well as The Community Chest.  He is currently on the Board of Governors of Opportunity International, a mission- driven philanthropic organization that provides micro loans to entrepreneurs in developing countries.
Steve has an MBA from The University of Michigan.  He resides with his wife, Mary Rose, in River Forest.  They have three grown children.  Steve loves tennis, swimming, and all outdoor activities.
Arden Swanson is a licensed CPA specializing in individual & business tax, and in compliance issues.  He has the special ability to help individuals and business owners get a handle on tax and accounting complexities and simplify them for their benefit.
He has served the community for over 30 years.  Currently, he is on the Board of Directors of a local non-for-profit missionary housing ministry. He volunteers with the local PADS work with the homeless, and is active in his church.
Arden completed his studies at Loyola University and received his CPA certificate and license in 1984.  He resides with his wife, Sandy, in Oak Park.  They have two grown children.  Arden loves to run and competes in at least two marathons every year.